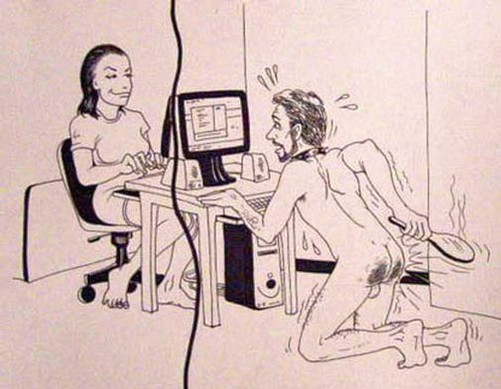 Online domination is a rather new phenomenon within the bdsm world. Although some mistresses offer online domination services for over a decade, the last years many new mistresses have entered the arena.
What is online domination?
It is domination by using online media such as chat, whatsapp and webcam, but also by telephone. Some dominants may use social media like Twitter, Facebook or Fetlife to expose a submissive publicly, or even use tools like TeamViewer to get access to the computer of the submissive.
Online domination has a low entrance level
As a submissive you can easily and anonymously gain your first experience with bdsm. If it turns out not to be your cup of tea you can simply step out and never come back. Nobody has seen you and there are no physical marks.
As a dominant you don't need big investments or a dungeon to start. Everybody these days has a webcam, a smartphone and access to internet.
Low entrance often leads to low quality
Many dominants have started to offer online domination, attracted by the thought of easy money. No big investments required, you can earn a lot of money easily. Just present yourself in target groups on social media like Fetlife and Facebook and shout a couple of humiliating commands and the balance of your PayPal account starts growing. They think.
Unfortunately there are many of these "dominants" that try their luck. They come and go, leave empty handed and contribute to giving online domination a bad name.
What makes a "good" dominant?
For Me, the first important aspect is respect.
I expect respect from My submissives, but as well I do respect them. I treat them with respect, but if I do not feel respected in return I just don't proceed with that "submissive". Just leave.
No matter how deep I humiliate or punish My slave – and I love to do so – yet I cherish a good slave and respect him deeply.
Bdsm is supposed to be fun and exciting for both. So let's respect each other.
Another key element is trust. The submissive must trust Me, must feel comfortable with Me, no matter how uncomfortable I make it for him. But trust cannot be demanded and it takes time to grow.
The dominant must earn it.
Online domination is as much as real life domination about building a relationship. I invest time, attention and dedication in My submissives although I might never meet them in real life.
The money is nice, but the kick of a submissive who is prepared to expand his limits for Me is priceless!
Interested in serving Me?
Do not hesitate you request a chat or webcam session with Me, or start serving Me through My online instructions.
I look forward to dominate you, slave!