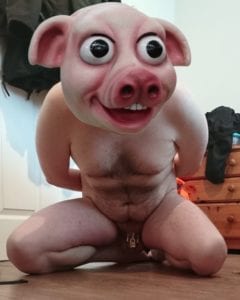 slave mike has begged Me to hold the keys to his chastity device. he will be in chastity until he will serve Me in a session in London, April 13-14.
Read here the diary that he maintains after the first month of chastity.
"It's so hard to believe that I have now been locked in chastity with the amazingly beautiful Lady Fabiola Fatale holding the keys. Every morning I eagerly await my message from Mistress with that day's code to which I end in return a photo of Mistress' property safely locked away. I am amazed how often I have had thoughts about wanting to relieve myself and start to get excited but soon feel the pressure of the cage holding me back.
Mistress is on my mind all the time now.
I look forward to the next month of serving my Mistress."
Day 30 – Monday
A restless night with the chastity device constantly reminding me about Mistress and who is in charge. Another day of also having to sit down each time I want to use the toilet even just to urinate. The cage really is taking control.
Day 31 – Tuesday
Woke early for work and as part of my new daily routine eagerly checked my emails for Mistress' instructions for that day and for the days code. Next job was to photograph Mistress' property and show her it was still safely locked away.
The day went by quickly with me being able to speak to Mistress about our up coming session together on her visit to London. Another day with Mistress being on my mind all day long. The chastity is a constant reminder about my Mistress.
Day 32 – Wednesday
Day began with what is becoming a daily routine, that is checking for emails and messages from my Mistress. Once I had my daily code I photographed the device my Mistress holds the keys to.
Discovered that an old injury on my balls had been caught by the Chastity device and had opened up. TLC taking place and trying to keep myself from getting excited.
Day 33 – Thursday
Day began with what is becoming a daily routine, that is checking for emails and messages from my Mistress. Once I had my daily code I photographed the device my Mistress holds the keys to.
Spoke with Mistress and discussed various plans for you upcoming session. Lot's of kinky ideas which didn't help me with my thoughts and made me start straining against the cage. Mistress really has control over me 24/7.
Day 34 – Friday
After a restless night with the cage keeping me awake, I woke and reported to Mistress.
Another day with frustration growing. To add to this frustration Mistress gave me permission to caress HER property and after 34 days caged this caused Mistress' property to strain inside it's cage.
Day 35 – Saturday
An early start beaconed and as I was out that day I kept checking my emails and eagerly awaited the day's instructions from Mistress. Excitement was added to the day with Mistress as always requiring the days photo and confirmation in a prompt reply. The day's photo required me to quickly adjust plans and disappear to a quiet place to take the photo for Mistress. This definitely added a sense of excitement.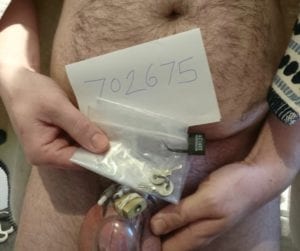 Day 36 – Sunday
Another day with Mistress' straining against the bars of the chastity cage. Mistress made a health check of her Mistress and wanted to ensure everything is ok with her property. Just touching the cage makes me think of Mistress.
Day 37 – Monday
Woken by Mistress' cock straining against the bars of the cage. As part of the daily check and photo for my Mistress it was also time to report how the previous week had been as Mistress' chastity slave. A small cut had reopened and this was reported to Mistress and treated suitably. The control handed to Mistress is so much more than giving up any orgasm until Mistress desires. Even the normal routine of wanting to go to the toilet involves Mistress' control. Just wanting to use the bathroom requires me to sit down on every visit.
Day 38 – Tuesday
Woken early again whilst straining against the cage. The day begins and there's no sign of an early email from Mistress with her instructions for that day. The message arrived only a couple of hours late but to me it felt like eternity. Constantly checking for a message from Mistress made me start thinking about her more and more. This then in turn made me get more excited and held back by the cage. When Mistress' message arrived I was straining hard against the cage. Mistress' really had her slave straining and feeling her full control.
Day 39 – Wednesday
Mistress was on my mind throughout the night and the straining against the cage was very evident as a result. Mistress was keen to ensure that her property was being properly looked after whilst lock and hygiene was being maintained. The day's instruction instructed my to write a prayer dedicated to my Mistress. Not being a writer I was nervous and as always wanting to please my Mistress.
Day 40 – Thursday
When I awoke, the first task like every morning was to check my emails and the excitement was building all the time and hoping to see a message from my Mistress. The email was found and came complete with a photo. The excitement and strain grew quickly. Another day thinking of Mistress constantly. My new instructions came from Mistress and these shall take a few days to complete. I know that in everything I do I shall be thinking more and more about Mistress and the more I think of Mistress the more frustration I start to feel.
Day 41 – Friday
Awoke early again today. It's hard to believe I've been locked in chastity for over a month. Mistress has sent me her daily email and again sent attached a photo of her wearing a strap on and wonderful outfit. Just the sight is making me get tight in my cage. The day I get to kneel before my mistress is fast approaching and I can't wait to see mistress with my own eyes and fall to my knees at her feet.
Day 42 – Saturday
The day started with the usual message from Mistress. I awoke and Mistress' property was pressing hard against the cage. In Mistress' email this morning she told me she wanted to take me deep and hard with her strap on. I couldn't believe how hard I was pressing against the bars of the device with what seemed like an immediate effect.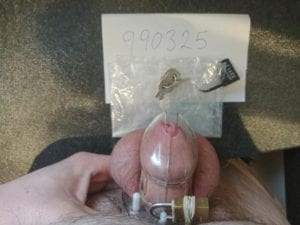 Day 43 – Sunday
Today began with me being woken by Mistress' property pressing hard against the bars of the cage. It's odd how the just as the pressure starts to relax slightly the sudden thought of what the device stands for and the thought of Mistress makes me try to get hard again with the device bringing me straight back to where I belong. As the day went on the thought of wanting to relieve myself was so strong. To then put my hand down and feel the device makes me think of Mistress and why I'm wearing the device. I know the end of this chastity period will be worth it.
Day 44 – Monday
Awoken this morning with the cage making it's self known. Continuing my daily routine and seeing Mistress' name appear in my messages again brought so much satisfaction. Report sent to Mistress and being able to dream about my Mistress for another day. To see images on the net of Mistress keeps getting me more and more excited.
---
Do you want to be caged? Let Me hold your keys!