Do you dream about Me controling your dick and orgasms?
Do you want that I decide if and when you are allowed to have an orgasm?
That can be arranged!
I can lock you up safely in a variety of ways.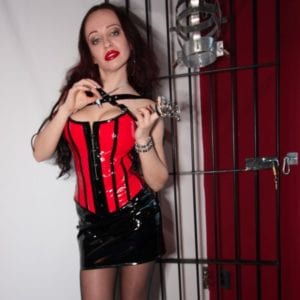 ---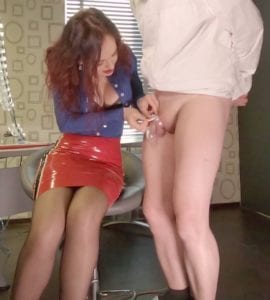 Keyholding from a session
In a session I lock your chastity device. you stay caged for a month. During this month I will send you at least twice a week an instruction to check that My property is still locked up safely.
I will monitor you closely, slave!
After the month you may visit Me for another session, and I will release you form the cage.
Perhaps I allow you a great orgasm, or I decide to milking you time after time.
If you want, I can lock you up again for another period.
---
Keyholding via webcam
you cannot visit Me? No problem, I can lock you safely through a webcam ceremony. Also the release I can do via webcam.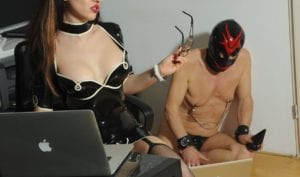 ---
Keyholding through online instruction
I can also lock your cage entirely online: I'll send you My locking instructions by email, and twice a week you'll receive instructions so that I can monitor that My property is still safely secured.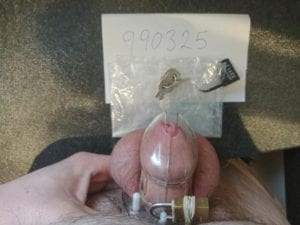 ---
Extra Possibilities
The keyholding can be combined with e.g. teasing via chat or webcam, or with extra instructions, where I keep a close eye on you, and you correct I deem necessary!
NEW: Combine the Keyholding with Remote Teasing with the Hush Teledildonic Butt Plug.
NEW: The QIUI chastity device that I can open remotely via the app on My smartphone. Read more…
---
Don't have a chastity device?
Do you want to purchase a chastity device? Make sure you buy the right size!
Easier said than done.
To avoid disappointment:
you may also choose to try one of My chastity devices, and rent one of Mine.
---
What are My slaves saying?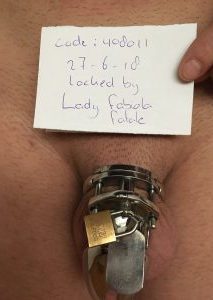 The reaction of one of My slaves:

I received my locking instructions 3 weeks ago and I haven't looked back. Every morning I receive an email from Lady Fabiola Fatale instructing me to send her a photo of the device, keys (secured away) and her property in it's cage. In addition a task will be set. This may be anything from having to record a video for Mistress to show my devotion to joining a fetish forum and asking other members what should happen to me.
Mistress is very caring and we speak every other day. In 5 weeks I shall be released should Lady Fabiola Fatale deem me to be worthy.
---
How do I safeguard your keys, safe and (un)reachable?
Often I am asked how I make sure that a slave doesn't keep a spare copy of the keys and secretly has access to his cock.
Trust Me: there is no way that you can play with yourself unnoticed!
Of course the chastity device may break, but it doesn't without I noticing it.
If I lock you in a session, I'll give you a spare key for emergency cases. But this key is safely secured, e.g. in a safe with timerlock, or a plastic bag secured with a numbered keypad.
And when I lock you remotely, then I expect you to record it on video, and send it to Me. For My amusement, but also to make sure you experience My control.
As you can see, there are lots of ways I can control you!
---
How much does it cost?
Keyholding for the first month is € 150, and for each additional month another € 100.
Do you want to start for a shorter period? A week is € 50.
Of course on top of that come the costs for a reallife session or webcam, if that's what you have asked for.
---
Request My Keyholding