Keyholding: Droom jij ervan dat ik jouw pik en je orgasmes controleer?
Wil jij dat ik bepaal of en wanneer jij mag klaarkomen? Dat ik jouw keyholder ben?
Dat kan!
Ik kan jou op verschillende manieren veilig opsluiten.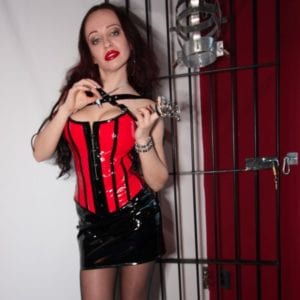 ---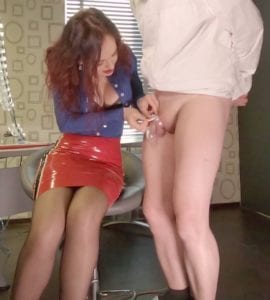 Keyholding vanuit een sessie
Tijdens een sessie sluit ik jou op in de kuisheidsgordel. Jij blijft voor een maand opgesloten. Gedurende deze maand ontvang je van mij minstens tweemaal per week een controle opdracht, en hou ik nauwlettend in de gaten of alles nog goed op slot zit.
Ik neem keyholding heel serieus!.
Na een maand kom je opnieuw voor een sessie bij me en zal ik de kooi afdoen. Misschien laat ik je wel heerlijk klaarkomen, misschien besluit ik jou helemaal leeg te melken…
Als je dat wilt, kan ik je weer opsluiten voor een nieuwe periode.
---
Keyholding via webcam
Ben jij niet in staat om mij te bezoeken?
Ik kan jou ook opsluiten via een webcam ceremonie, en ook het ontsluiten kan ik via webcam met je doen.
Dus ook voor online chastity ben je bij mij aan het juiste adres.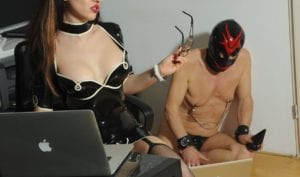 ---
Keyholding via online opdrachten
Ik kan jou ook volledig online opsluiten. Als jouw chastity meesteres ontvang je dan instructies per e-mail hoe je de chastity moet afsluiten, en je ontvangt tweemaal per week een opdracht van mij.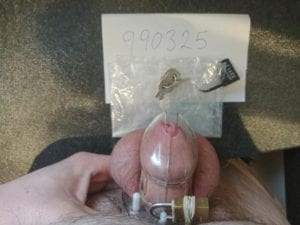 ---
Extra Mogelijkheden
De keyholding kan worden uitgebreid met bijvoorbeeld teasing via chat of webcam, of met extra opdrachten, waarbij ik jou nauwlettend in de gaten hou, en aanspoor waar nodig!
---
Geen eigen kuisheidsgordel?
je kunt er ook voor kiezen om eerst één van mijn kooien uit te proberen en die te huren.
---
Wat zeggen mijn slaven?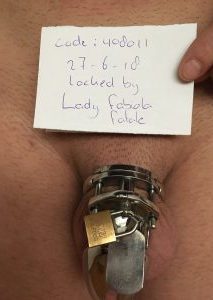 De reactie van één van mijn slaven:

I received my locking instructions 3 weeks ago and I haven't looked back. Every morning I receive an email from Lady Fabiola Fatale instructing me to send her a photo of the device, keys (secured away) and her property in it's cage. In addition a task will be set. This may be anything from having to record a video for Mistress to show my devotion to joining a fetish forum and asking other members what should happen to me.
Mistress is very caring and we speak every other day. In 5 weeks I shall be released should Lady Fabiola Fatale deem me to be worthy.
---
Hoe bewaar ik jouw sleutel, veilig en (on)bereikbaar?
Ik krijg regelmatig vragen over hoe Ik controleer of de slaaf niet een sleutel achterhoudt en stiekem toch aan zijn pik kan komen.
Neem van mij aan dat ongezien met jezelf spelen er absoluut niet bij is!
Natuurlijk is een breuk van het slot mogelijk, maar een ongeziene breuk niet.
Als ik je opsluit vanuit een sessie, dan krijg je natuurlijk een sleutel mee, voor geval van nood. Maar die sleutel is veilig opgeborgen. Bijvoorbeeld in een kluis met timer. Of in een zakje dat is afgesloten met een genummerd keylock of een hangslot met timer.
En als ik je op afstand afsluit, dan laat ik jou het afsluiten filmen, en mij de video toesturen.
Je ziet, mogelijkheden genoeg om jou helemaal te controleren!
---
Wat kost het?
Keyholding kost voor de eerste maand € 150, en voor elke volgende maand € 100.
Wil je eerst korter? Een week kost € 50.
Uiteraard komen daar de kosten voor de reallife of webcam sessie bij.
---
Vraag mijn Keyholding aan
Het formulier is Engels, maar beschrijf je wensen, fetishes etc gewoon in het Nederlands.