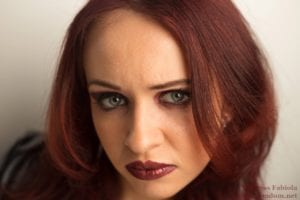 Curious what you can expect? Do you want to try a free online instruction? It's FREE!!
Choose a free online instruction. Choose what type of instruction you want to receive from Me.
Make your choice, slaveboy!
But before you do so, make sure you read and agree to My Terms and Conditions
Obey Me!
Lady Fabiola Fatale

---

PS: Do you want to know what others say?
Training review
★★★★★
"
- Mistress FABIOLA's training is very systematically training. -Mistress is very smart and very strict during training. -Slaves are need to honest , to obey, to report in time all orders as she commanded to become perfect slave. -slaves r requied to do without mistake and requires her orders to read thoroughly. If slave r mistake, Mistress may give punishments depands on mistake. -Mistress Fabiola has very powerfull mind and she knows very well how to handle to all slaves. -If slave have mistake, slaves can not hide or can not run away and she can catch in any situation. -Slave requires to clean the body infront of her. Mistress very angry if slaves r dirty. -As my mind, if mistress allow me to appointed as her slave /servant , I can work for washing her underpants,her all cloths, clean her home , assist for cooking, as her driver, and any other as she orders. -All training are very well for myself and I improved as obedient slave . -As finally, Mistressv is my owner,my queen,my goddess, my mistress, my boss ,my best teacher. TQ very much for allowable to review in her page. I worshipping every second
"
30days under correction
★★★★★
"
Hallo Mistress Fabiola and who's gonna read this comments... I spent my last month under the control of the amazing Mistress Fabiola, who spent time and ideas to manage my correction in this period of my life. Im a young man lets say, living a good life, visits bars and clubs, and all the time i was only focus to bring girls home, use them for my pleasure and then bye bye. I needed to stop it to mature and my kinky pushed me to search for someone who could control my animal insticts.Real life results, here comes Mistress Fabiola with her program of erotic domination, strong and focused tasks to make me feel like the girls i used; that me too i deserve to be trated and humiliated as i did for so long with women. It requires efforts and strong will, but there's something, in the way Mistress Fabiola controls you, its interesting, fascinating, and pushes you to do stuff that were some of your limits. She teased me from far away, i've been loyal to her for my choice, but she didn't put limits in my vanilla life, she respected my space without asking the impossible; and i really appreciated that. I also bought a chastity device and try to wear it for her, sign of respect and devotion. Is another kind of control and i'm still "in progress" as her submissive/slave. Was a real plesure serving you Mistress, stunning in the pics where you are so Dominant and powerfull, hope to discover more of your style of domination in the future. I knee for you know writing this message. yoursub UnderControlOf
"
Mistress Fabiola dominates
★★★★★
"
I enjoyed serving Mistress Fabiola online. She really enjoys dominating men and humiliating them.
"