You fantasize about feminization, crossdressing, sissyfication?
I have various programs to train you.
Sissy Tasks
My online instructions are text based challenging tasks. You report back to Me on each task, and I will give feedback where necessary. It will be quite interactive.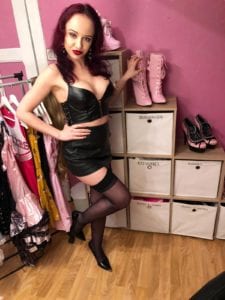 you like the soft touch of sexy lingerie, the sensational feeling of stockings on your legs? Applying lipstick and perhaps nail polish?
you fantasize about you being a beautiful woman?
you are in safe hands.
As a dominant Lady I have lots of experience of transforming tough guys into obedient sissies.
With My online instructions I will not enforce you to big investments in purchasing female attire…, unless that is what you want.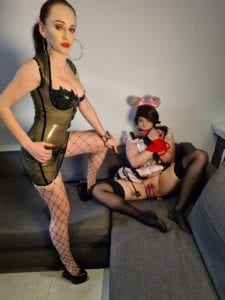 Since My first training you've got what it takes to be a real sissy slut.
Now I will complete your feminization: you wlll become a lovely little slut where I will be actively looking for the holes...
And... I will send you out...
Scary? Perhaps, but I'll make it exciting, too. And I'll make sure it all remains safe.
15 Instructions, you can choose if you want to do the tasks in 1 or 2 months.
Sissychool
Where My sissy tasks are text based instructions, are the tasks of My sissyschool given through images with just little text.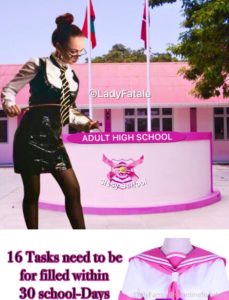 My sissyschool consists of 16 tasks, all with images and little text.
In 1 month I'll make a complete sissy of you.
Every other day I'll send you a hot and sexy task.
You will report back to me on each task, and I will comment back to you.
So there will be active interaction during your training.
It'll be fun!
---
Sissy Make-over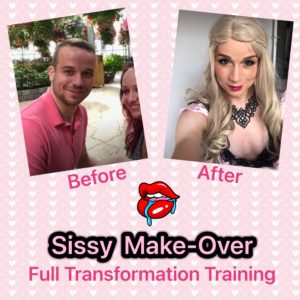 In 1 month I'll help you explore the sissy in you. Every 3 days you'll receive a new task and you'll discover another part of your sissy side.
I'll transform you into a true sissy slut. Not physically, through hormones, but in your feminization and sissyfication.
You want to experience how it feels to be a sissy? I'll give you basic advice on toys and accessories, while I'll keep you in chastity.
You'll get My advice on applying make-up, and buying and wearing girly clothes and lingerie.
You'll get two tasks from Me to explore what it is to be a real slut.
---
Register & Log in ⇒ Pay ⇒ Receive My first Task
To pay for access to My training programs you first need to register and login. Registration is easy with your Twitter or Google account. Or in the traditional way, with email and password.
Payments are safe and reliable, through all major creditcards, Apple Pay and Google Pay, and through many leading local payment methods like iDEAL, Bancontact or SofortBanking.
Payments are handled through My Digitopress payment site.
For maximum neutral appearance all payments are in the name of Digitopress, and training programs are specified as "Training XYZ" rather than the actual names on this website.
Your payment details remain with the payment service provider and are not shared with Me.
I don't use PayPal, as I have had too many bad experiences with them.

After the payment you will be redirected to My separate online training environment.