Regelmatig krijg Ik de vraag of een slaaf Mij financieel mag dienen. Zo af en toe een gift. Natuurlijk mag dat! Graag zelfs!
Sommigen fantaseren zelfs over vergaande financiële overheersing door een mooie dominante Vrouw. Dat kan ook, maar Mijn ervaring leert dat dit vaak een droom is en dat er heel veel voor nodig is om zo'n stap echt te durven nemen.
Hoe jouw droom ook is, het is mogelijk bij Mij.
En als jouw fantasie vergaand is, dan gaat het niet alleen over veel geld, maar meer nog over veel tijd om het benodigde vertrouwen over en weer op te bouwen.
Ik ben er klaar voor. jij ook?
Ik ben gek op winkelen
Ik hou van mooie kleding: mooie leren of latex kleding van top-kwaliteit en -design, maar ook de klassieke en elegante stijl voor die prachtige Vrouwelijke uitstraling. Ik hou van schoenen en laarzen met mooie hoge naaldhakken. Ik hou van een heerlijk parfum. Ik hou van goed verzorgde handen: zacht en mooi gemanicuurd.
Ik ben gek op nieuwe en sadistische speeltjes…
En… Ik vind het heerlijk als een slaaf voor Mij betaalt!
Vertel Mij hoeveel jij Mij wilt geven en Ik stuur je de link naar Mijn winkelwagen…
Natuurlijk ontvang jij een foto van Mij met de aankoop.
Betaal Mijn rekeningen
Mijn levensstijl is er een die past bij een jonge Godin. Dat betekent dus hoge maandelijkse uitgaven aan kleding, uiterlijk en ontspanning, naast de vaste kosten voor hypotheek, auto, dagelijkse boodschappen, uitgaan etc.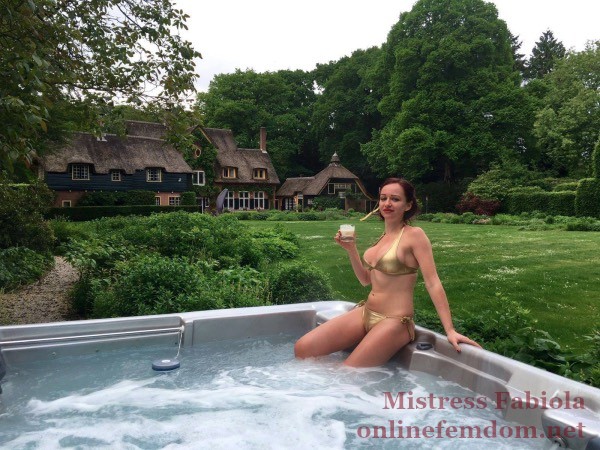 Maak jezelf nuttig en betaal een of meer van Mijn maandelijkse rekeningen.
hypotheek, € 600
manicure, € 30
kapper, € 50
wellness, € 40
kleding, € 100
uitgaan, € 200
auto, € 300
Hou je portemonnee bij de hand
Dus jij fantaseert ervan om een jonge mooie Vrouw als Mij financieel te dienen? Goed zo, brave slaaf…
Begrijp je dat jouw doel in het leven is om een prachtige, dominante en arrogante Vrouw als Ik ben te dienen en te overstelpen met luxe, op jouw kosten? Ook – of misschien wel: juist – als dat betekent dat jijzelf in armoede zou moeten leven?
Waar wacht je nog op?
Het formulier is Engels, maar beschrijf je wensen, fetishes etc gewoon in het Nederlands.
---
Ben jij bereid Mij financieel nog meer te dienen? Talking serious money? Financial Rape!
Hoop jij diep van binnen ooit een Vrouw te dienen die jou financieel helemaal uitkleedt en volledig van Haar afhankelijk maakt? Die niet schroomt om grote bedragen van jou af te nemen? Die jou misschien zelfs naar een (bijna) bankroet drijft? Die jou met een gemene glimlach ruïneert?
Lees Mijn mogelijkheden voor Financial Rape.
(Wees gewaarschuwd: Ik ben zeer serieus en doe dit alleen met èchte geldslaven!)
---
Support Mijn Projecten
Bdsm is Mijn lifestyle en Ik ben dan ook vast van plan deze levensstijl voor (tientallen) jaren te leven. Daartoe heb Ik een aantal projecten die investering vereisen.
jij hebt de unieke mogelijkheid om Mij hierbij van dienst te zijn en deel te worden van Mijn toekomst.
Door in Mijn projecten te investeren mag je Mij reallife dienen in zeer bijzondere omstandigheden, die Ik alleen aan Mijn investeerders gun!
Volg Mij! Support Mijn Projecten!
---
Lees ook Mijn blogs (English only):
Financial Domination is not about money