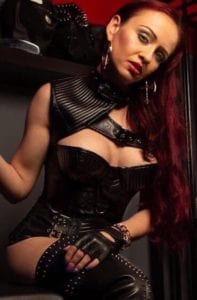 slaven die de eerste training hebben gevolgd en naar Mijn tevredenheid hebben afgerond mogen zich aanmelden voor Mijn advanced training.
Waar de standaard training is opgezet om er plezier aan te beleven, leg Ik nu de lat een stuk hoger en verwacht dat jij Mijn opdrachten strikt uitvoert en daarover steeds op tijd aan Mij rapporteert.
Inmiddels begrijp jij dat jouw plezier ondergeschikt is aan Mijn plezier en amusement.
15 Opdrachten
De advanced training bestaat uit 15 opdrachten.
Aan jou de keus of je daar 1 of 2 maanden voor wilt nemen: je krijgt dan elke 2 dagen een opdracht, of 2 per week.
Deze advanced trainingen zijn alleen in het Engels beschikbaar. Bekijk de inhoud daarom op de Engelse pagina.
Uiteraard vindt de interactie tussen jou en Mij gewoon in het Nederlands plaats.